Wurth, Barcelona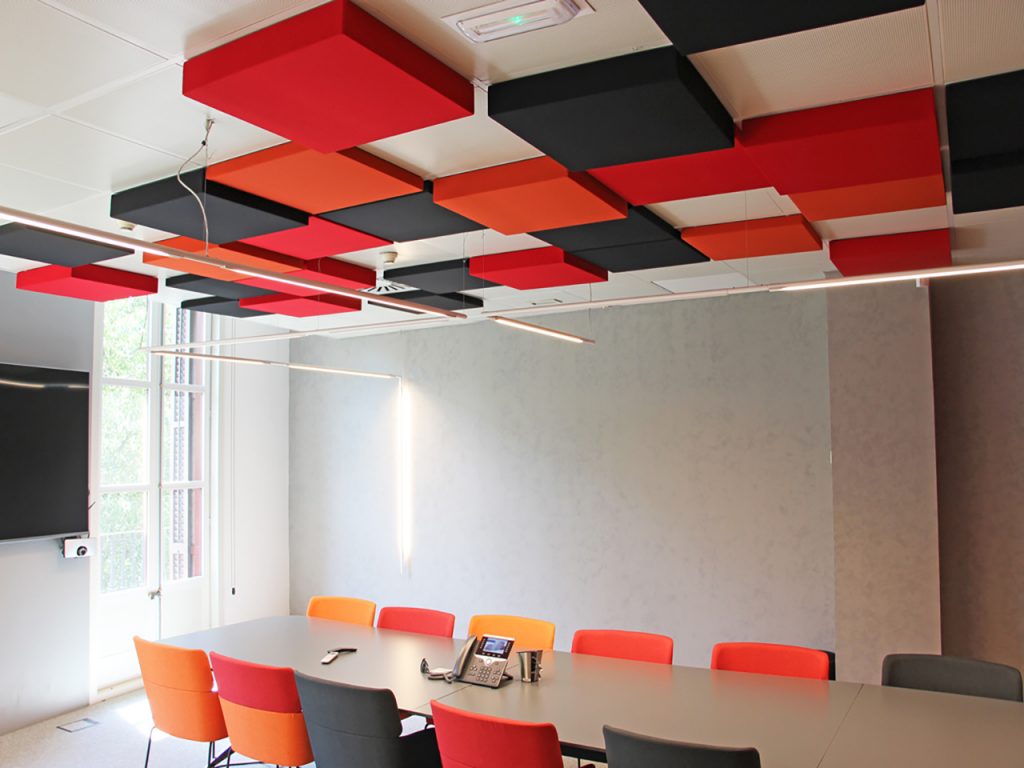 Acoustic ceiling panels for meeting room project
The need to have suitable spaces where to hold meetings or video conferences has become increasingly strong within a company.
The term suitable refers to "equipped" spaces from an acoustic point of view, that is areas in which interventions aimed at acoustic correction have been carried out.
It is of fundamental importance to recreate an acoustically comfortable environment in a company meeting room. The goal, in fact, must be to achieve a good level of acoustic comfort through the absorption of sound disturbances from adjacent rooms.
That allow to hold meetings, video conferences or welcome customers in a quiet environment, where listening and the speech of the participants become the protagonists.
The project we are presenting is an exemplary case of this.
It was realized an acoustic treatment to soundproof the ceiling of a meeting room for 16 participants, in which videoconferences are also often carried out.
The intervention consists in the installation of GoodVibes acoustic ceiling panels with a square shape and special and different thickness (40 mm and 80 mm), fixed with magnets to a metal structure from an existing false ceiling to thus maximize the acoustic correction of the meeting room and soundproof the ceiling by controlling the excessive reverberation of the meeting room.
The introduction of 80 mm thick acoustic panels in addition to the classic 40 mm panels, increase the absorption even at frequencies below the lower threshold of human speech (500 Hz), to be taken into account in environments where microphones are used and speakers like in conferences.
GoodVibes acoustic panels are in class "A" of sound absorption thanks to their internal polyester fiber material developped to increase absorption at medium-low frequencies.
In this project, great attention was also paid to chromatic detail, opting for the choice of a color palette (black, red, orange) that recalled that of the company brand.
This was evident in the GoodVibes sound-absorbing panels applied to the ceiling with a square shape and internal metal structure. The latter created a geometric and original design on the ceiling, thus assuming a dual role of furnishing complement.
For more information  contact us via the contact form or by clicking on the pages of the following products:
– GoodVibes, sound-absorbing panels of Acoustic Lab.
Year: 2019
Location: Barcelona, Spain
Product: GoodVibes
Brand: Acoustic Lab