Kettydo+ offices, Milan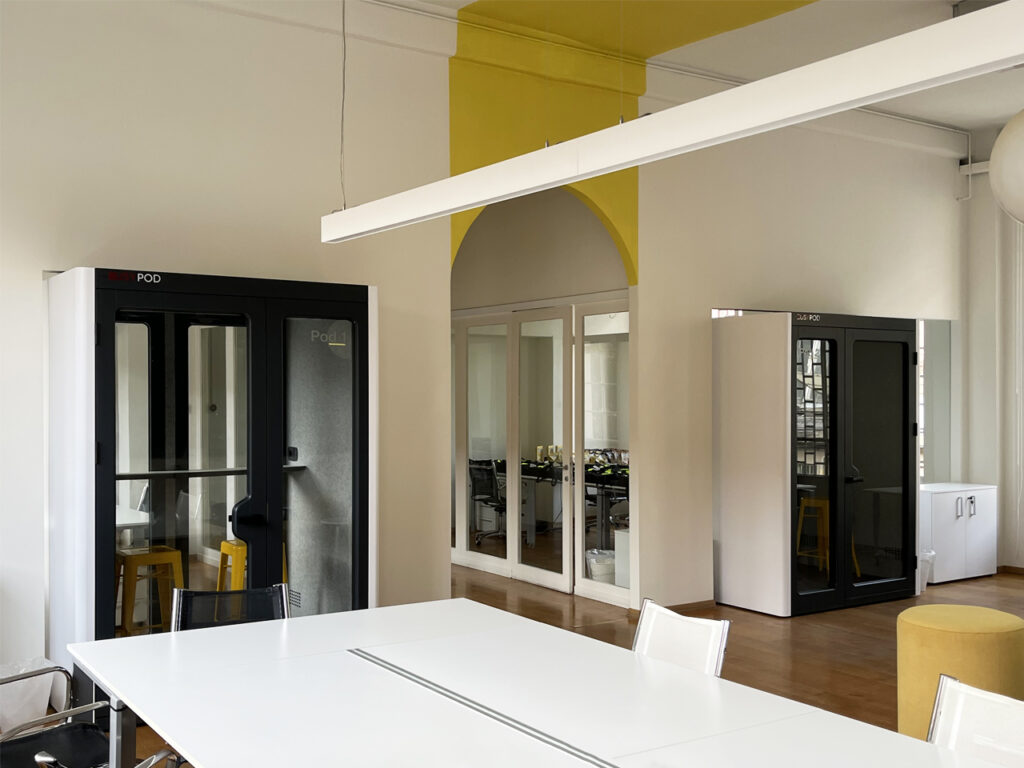 The phone booths in work spaces
The phone booths work spaces have become an essential element.
This happened above all in the last decade during which we have witnessed, first, a proliferation of offices characterized by open environments based on the concept of "sharing", then, with the arrival of the pandemic which necessarily led to numerous changes, including the spread of smart-working in the work field.
With the end of Covid-19 emergency, a "normal" working rhythm returned and, therefore, the office model with shared spaces continued to spread, apart from some companies that continued to strengthen the so-called remote work.
Within a work place, the daily sharing of spaces can be pleasant under some points of view, but it can be equally unpleasant for others, such as the buzz and clamor of colleagues which prevents workers from having the correct concentration.
The phone booths are ideal for these work spaces. An example is demonstrated by the Kettydo+ offices in Milan, a company that deals with engagement design, whose the renovation and the restyling was carried out by the architect Lorenzo Viola.
In this project, the attention to detail and the design of the rooms immediately catches the eye through a fresh and modern style, thanks also to the use of colors that recall the company brand and which offer employees a place to identify with.
The design intervention also envisaged the insertion of phone booth for work spaces ideal for environments of this type. The BUSYPOD Medium Meet booths were chosen, which are characterized by their captivating design and excellent acoustic performances.
Nowadays phone booths represent an important tool that makes professional areas more comfortable from an acoustic point of view.
In fact, in addition to offering a controlled and isolated sound space, thanks to the walls and internal lining in polyester felt, they offer the possibility of obtaining private corners where you can carry out personal video calls, important work meetings or even just where to gather in an intimate away from the daily buzz.
Phone booths with white lacquered external walls and black lacquered wood finishes were chosen for the Kettydo+ offices. To stay in line with the design and the corporate brand, two yellow stools have been inserted inside.
The BUSYPOD Medium Meet have been inserted in the transit areas, the so-called "common areas", integrating perfectly with the style of the rooms and representing a natural continuation of the space.
Thanks to the use of noble materials such as solid wood for the visible parts and the internal furnishings, the BUSYPOD phone booths and the achievement of up to 38 dB of acoustic insulation represent an important example of how the union of acoustics and design can give life to a product that satisfies both aesthetic and acoustic requirements.
This is evident precisely in the Kettydo+ project in Milan.
For more information you can contact us via the contact form or by clicking on the pages of the following products:

Year: 2022
Location: Kettydo+ offices, Milan, Italy
Product: BUSYPOD Medium Meet
Brand: BUSYPOD