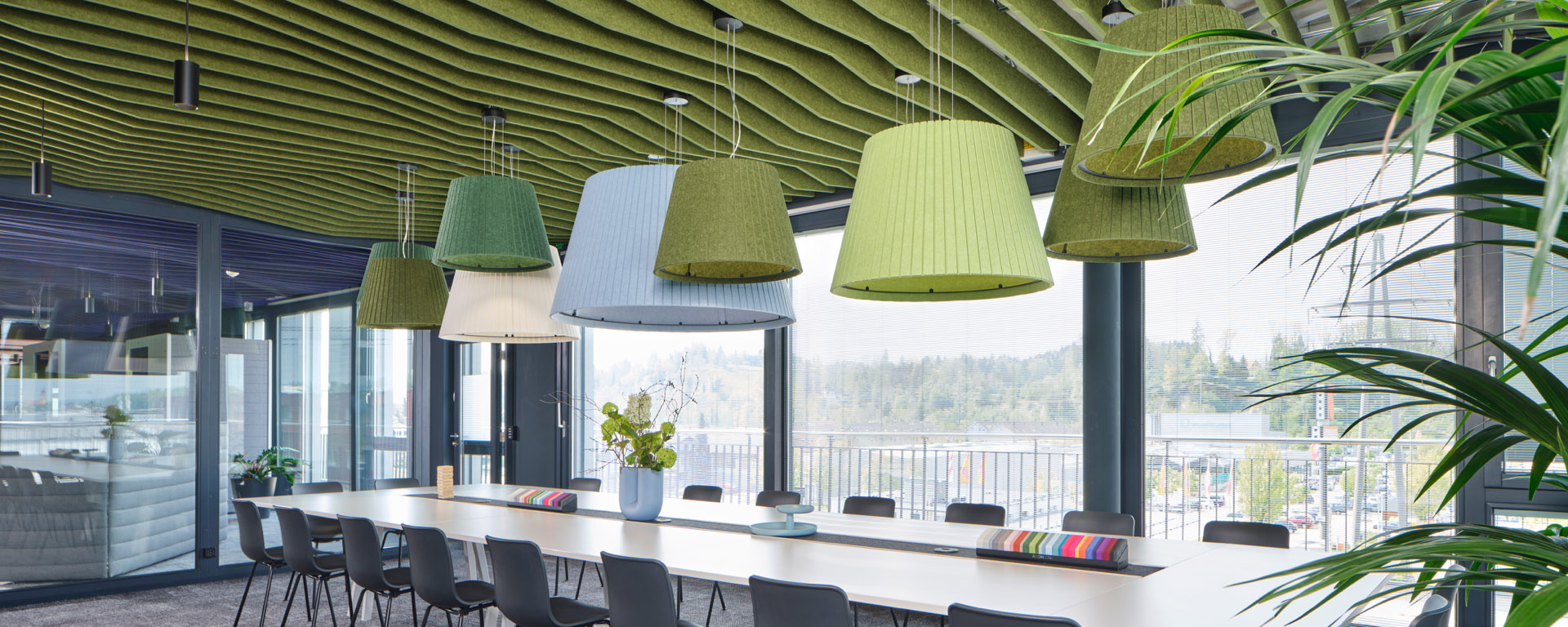 Acoustic Lab, Experts in Acoustic Correction
Acoustic Lab develops and produces various acoustic solutions aimed at reducing noise in closed environments and improving acoustic comfort. We are a company operating for over 15 years in the field of acoustic correction, specializing in the production and distribution of rational and effective acoustic solutions.
We realize acoustic projects for the office sector, and also for restaurants & catering, education and public spaces. Our production structure is flexible, with production facilities dedicated to the realization of acoustic panels covered with fabrics and wall coverings or sound-absorbing false wooden ceilings.
Acoustic Lab is equipped with a commercial structure composed of acoustic technicians and architects who, through phono metric readings, theoretical acoustic simulations and 3D acoustic modeling software, supports the customer in the choice of the product and in the definition of the materials and quantities necessary to guarantee optimal acoustic comfort for each environment.
Our mission: Feel the comfort!
Modern architecture and design are mainly focused on the view. We design spaces and sound-absorbing products to improve acoustic well-being. Our acoustic solutions are oriented to the acoustic treatment of any enclosed space in which people gather to work, learn or interact socially, and they have been designed to meet the acoustic comfort needs of any place intended for collective use: offices, coworking and call centers, but also restaurants and hotels, gymnasiums, production plants and finally schools, teaching and conference rooms and auditoriums.
Reaching the right reverberation time, or echo, has a number of important advantages: in an acoustically suitable environment, speech intelligibility, understood as the degree of greater or lesser difficulty in the process of extracting a sound with a certain meaning (word) from a background noise context, has a direct and immediate relationship with the increase or decrease in the volume of the interlocutors' voice. We have all experienced the curious circumstance of leaving a noisy restaurant deafened, but also voiceless.
On the contrary, dealing only with the listener such as the participants in a work meeting or the student who listens to the teacher in class for several hours, it is undeniable that the more the process of extracting words from the background noise context is difficult, the more the level of attention will drop with a significant loss of the ability to concentrate, quantifiable around a 30% decrease in our productivity.