Slatted panels, Milan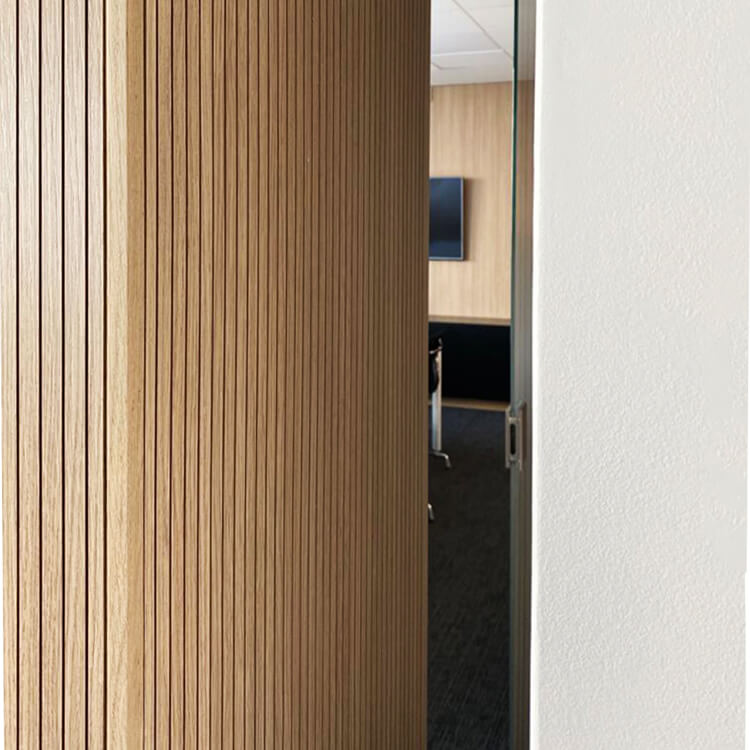 Acoustic correction with slatted panels
In this project for the headquarters of one of our customers in Milan, the goal was to carry out a technical intervention, which could also add a decorative value to the interiors, best representing the corporate character.
The environments involved in this design operation were the reception area, a waiting place for customers where it was of fundamental importance to maintain an adequate level of acoustic comfort; the meeting room, a meeting place for various participants where it was necessary to avoid as much as possible the entry of sound sources from outside; finally, the connective space / office area where the presence of glass surfaces generated a reverberation problem that needed to be corrected.
It was thus chosen to install Acoustic Blade wood slatted panels as they best met the design needs, both from a performance and a decorative point of view.
Acoustic Blade slatted sound-absorbing panels have been applied to the walls, offering on the one hand high acoustic performance thanks to their high sound absorption coefficient, on the other hand becoming a real wall covering with an important and precious decorative character, due to the precious wood finishes.
Acoustic Blade slatted panels, characterized by an exposed slatted surface, are, in fact, suitable for solving the acoustic problems of indoor environments including offices and corporate spaces precisely because they simultaneously offer an excellent performance response and design attractive.
Year: 2020
Location: Milan, Italy
Product: Acoustic Blade
Brand: Acoustic Lab