City Arkaden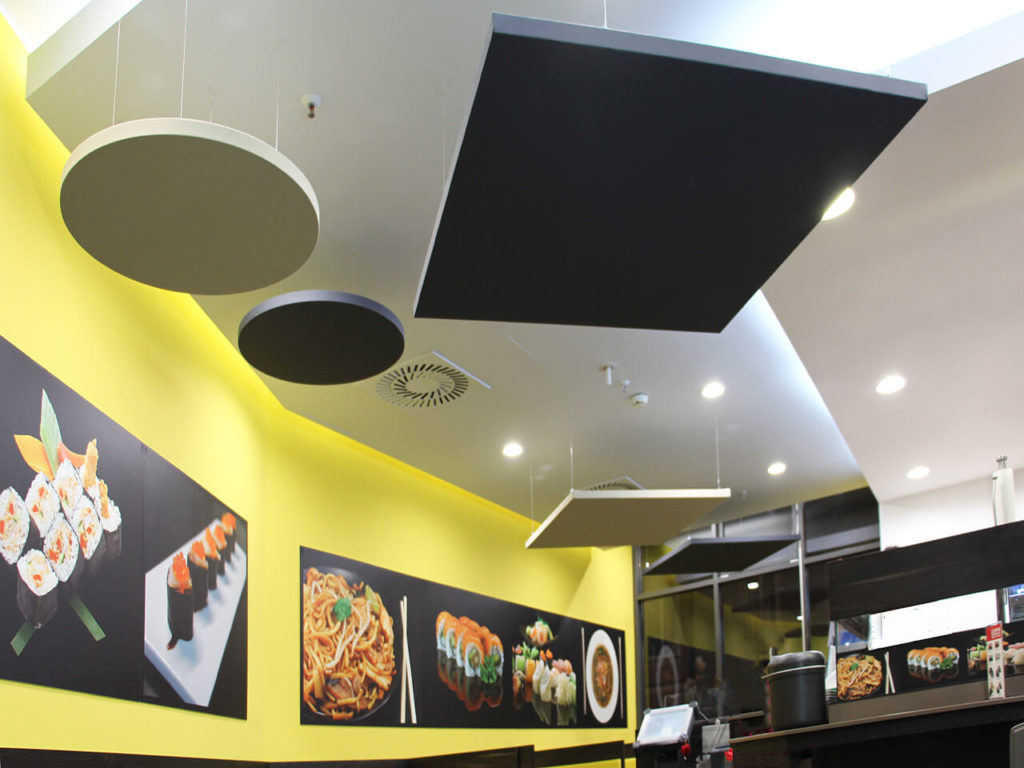 Design hanging sound-absorbing panels 
When customers walked into the Japanese restaurant in Klagenfurt's City Arkaden shopping center, they felt an unwelcoming feeling.
The abundance of glass surfaces and the high ceiling made the environment unpleasant due to the excessive reverberation.
An acoustic correction operation was essential in order to reduce the effects of intense sound reflection and thus achieve a high level of environmental comfort to get better the atmosphere of the spaces.
The acoustic improvement was achieved through the installation of Lunar and GoodVibes hanging sound-absorbing panels, both in round and square format, with metal frame and Trevira CS fabric upholstery, in colors matched to the interior design of the room.
The panels took on a decorative function thanks to their design and the choice of two different formats that best enhanced the style of the restaurant, integrating perfectly with it.
The GoodVibes and Lunar sound-absorbing panels, hanging in this case with nylon cables, are in sound absorption class "A" and are certified as a fireproof class 1 false ceiling.
The acoustic correction intervention thus brought benefits both in terms of acoustic comfort and general environmental comfort of the restaurant, making lunch and dinner for customers even more enjoyable.
Year: 2015
Location: Klagenfurt, Austria
Product: Lunar and GoodVibes
Brand: Acoustic Lab