Innovation Group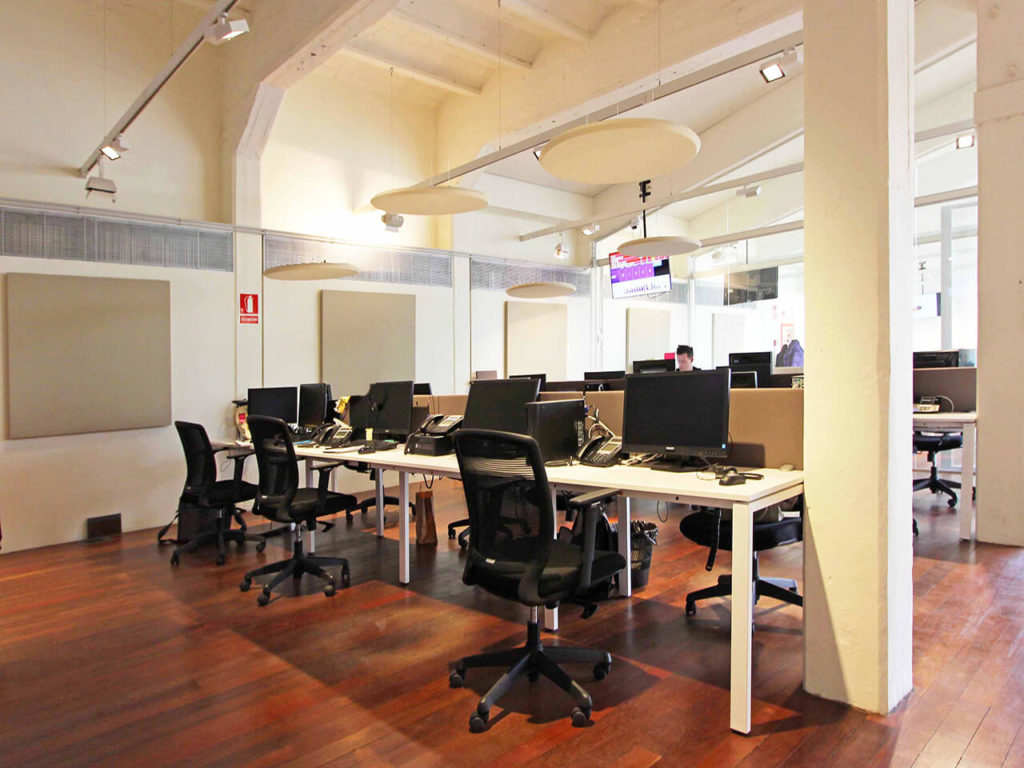 Acoustic design in call centers
The issue of acoustics in call centers is undoubtedly a recurring problem, since limiting noise emissions to within the limit of 45 decibels becomes really complicated in the work spaces dedicated to call centers.
The distribution of numerous workstations in a single, extended environment with no real internal divisions and the overlapping of numerous voices at work makes it more than necessary an adequate and specific acoustic design in call centers.
The new offices of the Innovation Group call center were built in a large open space located in the new innovation district of Barcelona, the @ 22 District.
The offices of the call center had the typical characteristics of the post-industrial premises of this area, where one of the most ambitious urban renewal projects in the world is underway to facilitate the transition of the historic, but degraded district of Poblenou, into a power economy based on technology, innovation and learning.
The acoustic project involved the installation of Lunar sound-absorbing panels by Acoustic Lab, which integrated with the interior design of the offices and left both the industrial-type ceiling and the large interior spaces clearly visible. The use of white Lunar sound-absorbing panels made it possible to carry out a discreet treatment on a visual level, but highly effective in reducing the important reverberation, due to the presence of numerous glass walls and large windows.
The circular Lunar sound-absorbing panels were installed and suspended from the ceiling with nylon cables, delimiting the work islands and thus favoring concentration and tranquility in this large open space, applying the design principles of acoustics in call centers. .
In addition, the beige-colored, square-shaped GoodVibes acoustic panels by Acoustic Lab were applied to the wall, also contributing to the reverberation time reduction of the large call center.
Lunar sound-absorbing panels and GoodVibes acoustic panels are made of an internal material in polyester fiber with variable density, ecological and recyclable capable of absorbing sound waves at medium-low frequencies.
Their external covering, on the other hand, is made of Trevira CS® fireproof fabric and thus adds a touch of elegance to the whole environment.
Year: 2017
Location: Barcelona, Spain
Product: GoodVibes and Lunar
Brand: Acoustic Lab